Origins of Cuban Salsa | Plus a Free Salsa Dance Tutorial
Origins of Cuban Salsa – In this article, we will be talking about the origins of Cuban Salsa. We hope you enjoy it!
Origin of Cuban Salsa (Also Called Casino)
Cuban Salsa, also known as Casino, originated in the exclusive club for wealthy white families in Havana called "El Casino Español" located in the affluent neighborhood of Miramar. Prior to the Cuban Revolution, Cuban music was thriving with popular styles such as Guaracha, Traditional Cuban Son, Son Montuno, Pachanga, and Cha Cha Cha. Notable musicians of that time included Benny More, Celia Cruz, and Sonora Matancera, who all played a significant role in shaping the development of Cuban Salsa and remain influential figures in the Cuban and Latin American music scene.
SHOP LATIN DANCE SHOES
Here are some of the most influential one and why:
Benny More:
Benny More was a celebrated Cuban singer, composer and band leader known for his powerful vocal abilities and his versatility in singing across different styles like bolero, son, guaracha, and chachacha. He was also known for his innovation in combining these styles to create a unique music. He is regarded as one of the greatest Cuban singers of all time and has had a profound impact on many Cuban and Latin American artists. He was also referred to as "El Bárbaro del Ritmo" (The Rhythm Barbarian).
Celia Cruz:
Celia Cruz was a Cuban-American salsa singer who was influential and famous for her energetic stage performances and powerful voice. She was born in Havana, Cuba in 1925 and began her career as a singer in the 1950s. She quickly gained popularity for her unique style and powerful voice, which captivated audiences and made her a star in the Latin music world. She became known as the "Queen of Salsa" and was widely regarded as one of the greatest salsa singers of all time.
SHOP LATIN DANCE SHOES
Cruz's music was characterized by her powerful voice and her ability to infuse her songs with energy, passion, and emotion. She was known for her ability to convey a range of emotions through her music, from joy and happiness to sadness and heartbreak. She was also famous for her flamboyant stage presence and her signature cry of "Azúcar!" (sugar), which became a trademark of her live performances.
La Vida Es un Carnaval
Throughout her career, Cruz recorded numerous hit songs, including "La Vida Es Un Carnaval," "Quimbara," and "Bemba Colora." She was a prolific recording artist and collaborated with many of the biggest names in salsa, including Tito Puente, Johnny Pacheco, and La Sonora Matancera. She received numerous awards and honors throughout her career, including a Grammy Award, multiple Latin Grammy Awards, and numerous lifetime achievement awards.
SHOP LATIN DANCE SHOES
In conclusion, Celia Cruz was an influential and famous salsa singer who captivated audiences with her powerful voice, energetic stage presence, and her ability to convey a range of emotions through her music. She was widely regarded as one of the greatest salsa singers of all time and continues to be remembered and celebrated as a cultural icon.
Sonora Matancera:
Sonora Matancera was a Cuban musical group that was influential and famous for its contribution to the development of salsa and Cuban popular music. The group was formed in Havana, Cuba in 1924 and was one of the most popular and enduring musical ensembles in Latin America. It was known for its distinctive sound, which blended elements of Cuban son, mambo, and other popular Latin music styles.
Rogelio Martinez
Throughout its history, Sonora Matancera had a rotating cast of musicians and vocalists, but it was always centered around its leader, musician and arranger Rogelio Martinez. The group was known for its tight rhythm section, imaginative arrangements, and virtuosic soloists, who blended together to create a unique and dynamic sound.
SHOP LATIN DANCE SHOES
Sonora Matancera recorded and released numerous hit songs, many of which became popular throughout Latin America and the Caribbean. Some of its most famous songs include "A Bayamo en Coche," "Echale Salsita," and "Linda Mujer." The group was also known for its innovative use of brass and percussion instruments, which helped to shape the sound of salsa and Cuban popular music.
In addition to its musical contributions, Sonora Matancera played an important role in the cultural and political life of Cuba. During the 1940s and 1950s, the group was a popular choice for political rallies and events, and its music was often used as a tool for political expression.
SHOP LATIN DANCE SHOES
In conclusion, Sonora Matancera was an influential and famous Cuban musical group that played a major role in the development of salsa and Cuban popular music. Its distinctive sound, innovative arrangements, and virtuosic musicians helped to shape the sound of Latin American music and made it one of the most enduring and beloved musical groups in the region.
Beginning of Rueda de Casino
The golden age of American Rock also saw the rise of popularity of Cuban Casino (Cuban salsa) in Cuba. Rock and American Swing influenced the creation of Casino as young people from wealthy families would gather to dance, following the indications of a leader in perfect synchrony.
The triumph of the Cuban Revolution led to the transformation of high society Havana Casinos into worker union meeting places, giving the Cuban people and Afro-Cubans access to the dance.
Cultural heritage
The end of the colonial period allowed the Cuban people to incorporate Afro-Caribbean influences into the dance, leading to its diversity and rich cultural heritage.
Today, Casino and Rueda de Casino are known globally and danced to modern Son, Songo, Changui, Timba, and more.
Origins of Cuban Salsa
Related articles:
Origins of Cuban Salsa
Origins of Cuban Salsa
Origins of Cuban Salsa
Origins of Cuban Salsa
Videos Salsa Styles:
Origins of Cuban Salsa
Son Cubano
Origins of Cuban Salsa
Son Cubano Dance
Origins of Cuban Salsa
Cuban Salsa steps
Origins of Cuban Salsa
Cuban Salsa triple – Cuban Salsa a trois
Origins of Cuban Salsa
Rueda de Casino Dance
Origins of Cuban Salsa
Rueda de Casino moves
Origins of Cuban Salsa
Rueda de Casino Dancing Moves
Origins of Cuban Salsa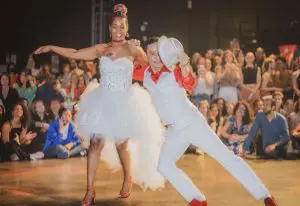 Please follow and like us: