Come and Learn why Latin Gold Coast Dance Classes at Passada are so much Fun!
When you enrol, our international dance teachers and special guest instructors help you learn to improve your dance skills in a safe and fun environment.
Register on the APP for Partner, Solo and Fitness Styles with over 18 different dances
Here are What others are Saying about Passada....
Hear What Others Say About Passada
Check out some Pictures from our fun Classes....
Friday Night Dance Class & Practice 7.30PM
Why not join us for one of our social events and dance the night away?
It's a wonderful chance to meet new people, share stories along with just have a great time. Don't worry, we're all friendly folks here! We always strive to make each event as affable and all-inclusive as possible so nobody gets left out of the fun. It doesn't matter if you're new to dancing or have been swingin' and shakin' for years, everyone is welcome to join in on our parties or club fit classes.
To stay updated via our Social Media Channels:
Private Dance Classes Gold Coast
At Passada we love to dance! We take pride in how we teach our students so their personality can emerge through dance.
We also understand that some people like to learn privately one on one which is why we offer Personalised Private Dance Classes at our studio in Burleigh on the Gold Coast.
Wedding dance lessons
At Passada Afro Latin Dance, we help people to create memories that last forever!
The cool thing about our wedding dance classes on the Gold Coast is not just that you'll have a memorable first dance, but you also get to experience a uniquely beautiful experience learning something new with your loved one.
Here are What others are Saying about Passada....
[wprevpro_usetemplate tid="1″]
You learn easy choreography, no partner which is great for fitness and move. The goal is still to sweat. You will learn a very easy choreography in level 1 (Absolute beginners level is level 1) Learn more about our Beginner Dance Classes on the Gold Coast
An expression of Africa, Afro Dance is a fusion of various traditional African dances such as ndombolo (Congo), azonto (Ghana) & kuduro (Angola) – to name a few!
Think latin hop hop. Specifically, reggaeton is the fusion of reggae, latin and hip hop flavours which focuses on strong and sexy hip movements and incorporates hip hop grooves.
Salsa Suelta is salsa danced solo. Focusing on Cuban salsa and other forms of Cuban dance, each class will teach the basics, progressing into intermediate and advanced dance patterns which prepares you to dance salsa anywhere at any time!
Heavily influenced by its African roots, Dancehall is a genre of music and style of dance which, put simply, is Jamaican street dance. It's a rich and layered style which is full of culture.
(Coming back in August 2020): It would be impossible to think about Carnaval without samba! Samba is a Brazilian dance with African roots, characterised by a whole lotta hip shaking, attitude and abandon.
Ladies Styling focuses on women's body movement as it applies to the various dance styles. Emphasis in placed on hip movements and isolation techniques and helps you bring your dance to the next level.
Feel powerful, confident and sassy in your heels and OWN your femininity. Sexy heels is a FUN, empowering, dance class designed to bring out your inner sass! (Heels not mandatory!)
Funk it up is our new dance fitness classes at Passada!
This will make you sweat !!mandatory!
We don't care about the steps, we are here to exercise and lose weight.
The goal is to exercise. You are not here to learn how to technically do a step, but you are here to sweat and shake it off!
An easy to follow dance based cardio workout to get the heart pumping and the endorphins flowing. Choose from RnB, Latin and Dance Fit mix themed classes!
Barre and pilates-inspired workout to build, lift, sculpt and tone the booty and thighs. Not a dance class, more of a conditioning one.
Step into a darkened room, complete with laser lights, smoke and disco ball, replicating the atmosphere and buzz of a night out on the town. You can choose to follow the instructor's easy to follow moves or make it up as you please!
Improve your flexibility, reduce muscle tension and aid recovery. Stretching is a vital part of any dance/fitness regime, regardless if you're new to dancing or have been dancing for some time. It boosts the effectiveness of any dance/fitness regimen and provides a myriad of mental and physical health benefits.
You learn how to dance socially, lead & follow with different styles.
Cuban salsa (or casino) as its name suggests, has its origins in Cuba. Casino is a partner dance where couples dance in a circular fashion. It involves more body movement than LA salsa and is considered more "street" than its counterparts.
Dominican bachata originates from the Dominican Republic and is thought of as the "original" or "traditional" style of bachata. Dominican bachata is characterised by footwork, turns/figures and rhythmic free style moves.
Sensual bachata has its origins in the south of Spain and focuses on waving type movements such as body rolls, torso circles, and hip circles. When the music has stronger beats, the dances uses isolations and dips.
Kizomba is a music and dance genre which has its origins in Angola. Here, the emphasis is on the connection with your partner. Kizomba is very relaxed and represents a big change of pace from salsa and kizomba.
Is a partner dance originating in France, has been created by mixing Kizomba dance/ movement with more Urban styles in order to create a new dance style. Urban Kiz was modernized to dance to more Urban beats such as ghetto zouk, pop remixes, hip hop and RnB.
Rueda de casino is Cuban salsa danced by multiple couples in a circle. The couples are directed by one of the dancers who calls out different Cuban salsa patterns, which involves frequent changing of partners.
LA salsa (not to be confused with Cuban salsa) is a partner dance where couples dance in a linear fashion. Compared to Cuban salsa, it includes more lifts, dips and drops as it evolved from the more traditional latin ballroom genre.
The BENEFITS of Passada Gold Coast Latin Dance Classes
Not sure if our dance classes are for you? Are you looking for at least one really good reason to join us? Well, allow us to give you 8!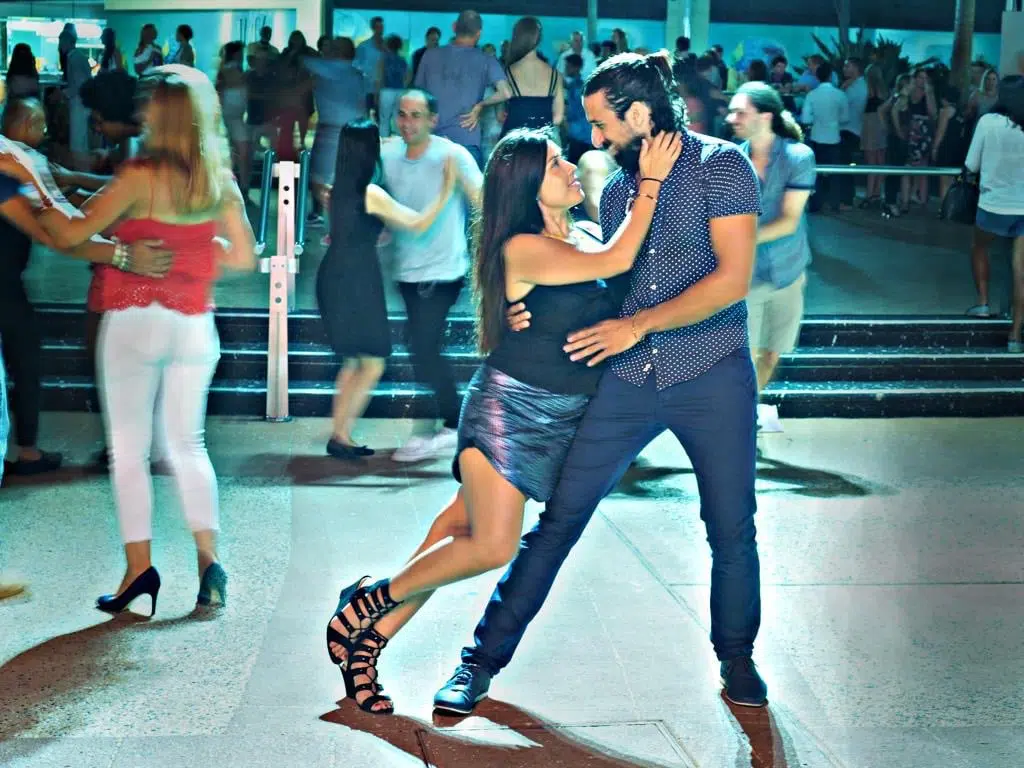 Here at PASSADA School of Afro Latin Dance, our chief goal is to help promote Afro Latin Dance and share the culture behind it. To achieve this, we always ensure that our facilities and our instructors are nothing short of the best. We believe in creating friendships whilst keeping fit. We have also created an environment where you can meet like-minded people whilst you challenge yourself. We believe in No Judgements, No segregation and that dance should be both fun and communal. We are not a community of competition or shows and we have high values along with taking care of our people.
So join us and learn Cuban Salsa, Kizomba, Dominican Bachata, Dance Fitness, Semba and other styles of Afro Latin dances in a fun and relaxing environment. Be taught by our roster of international dance teacher and special guest instructors and learn how to improve your dance skills! Join the best dance classes Gold Coast.
Dance Fitness Classes Gold Coast
Are you looking for Latin Dance Fitness Classes on the Gold Coast? Dancing is supposed to be fun! If you are like most people, dancing can feel a little intimidating. Not at Passada!
Simply walk in through our doors and we'll have someone waiting there for you with warm and welcoming smiles. When you join our dance fitness classes, we make sure that you'll feel at home, and it may even feel like you've known us for years!
At Passada Afro Latin Dance Class on the Gold Coast, we give you a variety of styles you can learn.  We offer Solo, partner or fitness styles, to cater to your needs in a fun and friendly community of likeminded people.
Whether you are a professional dancer or have never danced before, we welcome you to our Latin Gold Coast Dance Classes with open arms. With the current environment, we cater for both Online Dance Classes and at our Burleigh Studio for Dance Classes on the Gold Coast.
Salsa Dance Classes Gold Coast
Salsa dancing is so much fun!
Not only do you get a workout, but you also improve your self-confidence, your self-esteem whilst toning your body and having a great time. At Passada, your first Salsa Dance Class is free, there is no partner required and no need to book.
Register Now on the App of Your Choice